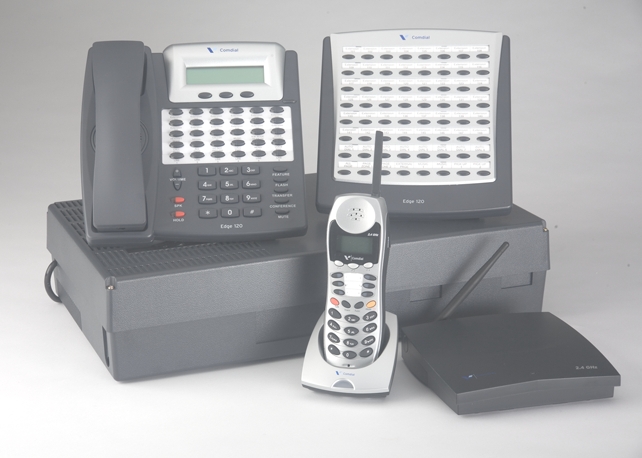 Vertical's Comdial DX-120
Analog, T1 and ISDN PRI Trunking
Corporate Office Voicemail Module
Station sets have 30 button programmability
The Comdial DX-120 Business Communication System is designed exclusively for small to mid-size enterprises providing a complete telecommunications solution to meet everyday challenges. In addition to offering a comprehensive feature set previously available only on high-end PBXs, the DX-120 also supports an integrated voice mail option based on Comdial's industry recognized Corporate Office Voice Messaging software. Together, this combination provides small enterprises with a large company communications solution at a very affordable price.
With the DX-120, get started with a reliable, scalable communications technology. The DX-120's expandable architecture grows with your office, allowing you to purchase a system today while leaving room to expand tomorrow.
| | | | |
| --- | --- | --- | --- |
| Configuration | CO Lines | Digital Stations | Analog Stations |
| Basic System | 4 | 8 | 4 |
| Maximum Capacity | 40 | 80 | 8 |
T1 and ISDN-PRI Trunking: The DX120 supports T1 and ISDN-PRI trunking as well as analog trunking. T1/PRI trunking enables inward Direct Inward Dialing for p to 100 numbers. The DX-120 also supports External Call Forwarding for DID calls, assuring that users can always be reached.

Just to mention some of the DX-120-s features:

Display with 30 Buttons: All telephone models have 30 buttons for outside lines and direct selection to other extensions.

Built-In Caller ID: Name and number are displayed on both digital and analog telephone sets.

Tenant Service: May be configured to operate as if two or three systems are deployed at a single site. Paired with two Music-On-Hold sources.

See a complete list of features available with the Comdial DX-120.

Integrated Voice Mail for Every Enterprise

Combining the DX-120 platform with Comdial's industry-recognized Corporate Office Voice Messaging software makes for a complete small-office communications solution. With a digital voice processing card installed directly inside the communication system, the DX-80 provides fully integrated voice messaging without requiring the dedication of any communication system extension ports. That means all 56 extension ports are completely available for digital and analog port expansion needs.

Just to mention some of the DX-80 features:

Call Recording: Allows subscribers to record active calls in real-time for future reference.

Call Screening: Asks the callers to say his/her name then announces the call to the subscriber. The subscriber can choose to accept the call, send the call to active mailbox greeting or transfer the caller to an alternate extension.

Call Queuing: Callers are given the option of holding for a specific extension when it is busy. The system politely keeps callers apprised of their position in line and offers options to leave a voice mail message, speak to the operator, or try another extension.

Transfer Off-Premise: Automatically transfers a caller to an off-premise location such as the subscriber's home or mobile phone, reducing the number of missed calls.

Pager Notification:

Automatically pages subscribers when they receive messages in their mailboxes, helping to reduce customer response time.
---